There are different ways to burn body fat. However, according to many experts, fats and fatty foods should be avoided. Contrary to this view, there are also experts who claim that it is possible to burn fat by consuming fat. Yes, you can get rid of your fat effectively with this claim, which does not seem very logical at the beginning. Let's take a closer look at how you can do this.
Is It Possible To Burn Fat By Consuming The Right Fat?
It is possible to collect the nutritional resources of our body in 3 main classes. These are; carbohydrates, proteins and fats. Carbohydrates are known to be rapidly converted into energy by the body. Proteins attract attention with their use in muscle building. When it comes to oils, people have different hesitations in their minds and it is generally agreed that they should be avoided. However, this is not the case.

There are different types of oils that can be consumed. While some of them are extremely harmful to the body, others are quite beneficial. Therefore, healthy oils should be consumed periodically. Let's examine the benefits of these oils for the body:

They serve for the functioning of body functions. For example; They enable the absorption of vitamins A, D, E and K by the body.
Oils provide testosterone production. This situation opens the door to building muscles.
It comes into play when carbohydrates are not enough for energy and meets the body's energy needs.
It provides a healthy functioning of the digestive system.
It plays a role in the flexible structure of the cell membrane and skin.

The benefits of oils are generally in this way. Now let's see relationship between fat eating and fat burning. Fats are known as hard to digest foods. Therefore, they give people a feeling of satiety for a longer period of time. Thus, the feeling of eating disappears and this helps you to lose weight.

If people do not consume enough healthy fat, muscle breakdown is performed by the body for energy needs. This situation causes a serious decrease in metabolic rate. Thus, fat burning also slows down. At this point, the main thing to pay attention to is the consumption of healthy fats sufficiently.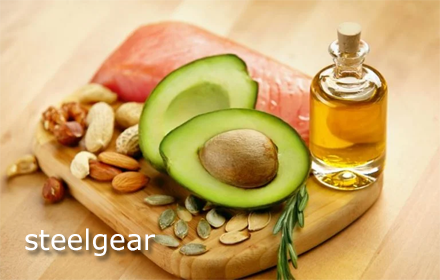 What Are Healthy Fats? What are the effects?
When it comes to healthy fat, everybody wonders what these are. There are many types of fat that can be consumed. Healthy oils can be observed in two types: monounsaturated (mono) and polyunsaturated (poly) oils.

Monounsaturated fat sources;

Avocado
Peanut
Almond
Olive oil
Seeds

Polyunsaturated fat sources;

Tuna
Salmon
Walnut
Soybean
Canola

Polyunsaturated fats contain omega-3 and omega-6.

Regular consumption of mono fat sources allows the body to fight bad cholesterol called LDL [1] more effectively. Poly oil consumption has a role in strengthening the brain and has a preventive effect on inflammation. One of the most important effects of these 2 types of fat is that they fix blood sugar. In this way, they clearly reduce the cravings for foods rich in carbohydrates. However, it is necessary to be extremely careful at this point and adjust the portion size. If the portion size is more than it should be, the fats may do more harm than good.

Are Trans Fats Harmful?

It will be sufficient to examine the information on the packages to understand whether there are trans fats in foods. The main goal of using trans fats, expressed as partial hydrogen containing oil, is to extend the shelf life of the relevant product. These chemically modified unsaturated fats can cause different problems in the body. [2] These are;

Chronic inflammation within the body
Heart conditions
Type 2 diabetes
Cancer
Paralysis

When the effects mentioned above are examined, it will be seen more clearly how harmful trans fats are. Therefore, trans fats should be avoided completely.

Are Saturated Fats Harmful?

Fats that can remain solid at room temperature are called saturated fat. These types of fats are believed to raise bad cholesterol (LDL) and increase the risk of heart attack. However, they are also known to be involved in many useful functions in the body. Therefore, consuming a small amount of saturated food is recommended by experts.

Approximately 10% of fat consumption should consist of saturated fat. However, this rate should not be exceeded..