Daily protein consumed in proportion to weight, especially with sports, are the result of taking into account different calculation methods and values. Protein is the best building material that affects the basic formation of the muscles, as well as the body getting more than necessary; kidney and intestines will be fatigued significantly, in the long term will become unable to fulfill its tasks.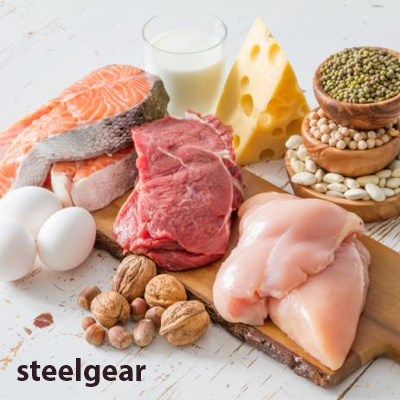 We will talk about the weight of protein at the beginning of the elements that you need to pay attention to, but we will take your weight directly to calculate your protein needs. Fatty cells or fat regions never need protein. Just as our lean regions will need to shape our protein; It is also very important that the body receives protein as much as it can only use and burn.
How Should Daily Protein Need Be Calculated?
In order to calculate your daily protein needs, you need to pay attention to how and at what level you are doing sports. If you are doing a very heavy sport and are making serious efforts to improve, you can move on to calculation.

For an athlete weighing 80 kilos, the lean mass must be calculated. Imagine that an athlete who weighs 80 kilos has an average fat content of around 20%. 15 kg of fat will not need protein. The amount of protein required for the remaining 65 kilos; Since 2 grams of protein per pound will be enough for an average athlete, it is enough to consume 130 grams of protein per day. There will be an unnecessary expense, as more will be forced to burn the body and you will have to pay a considerable amount to find. As a result of using a sufficient amount of protein, you will see that both the digestive system in your body relaxes and develops comfortably and you are always in an advantageous position.

The higher protein usage and consumption that you can see in professional athletes and sportsmen in high volume; will take shape according to the weight of the sport.
How can I meet protein needs?
Almost all foods we consume daily contain protein. The total amount of protein we will get from everything we eat, from breakfast to bedtime, has to meet your daily needs. When you think that the amount of protein you can provide with the foods you consume daily is insufficient, you can apply to protein powder and balance the amount of protein on a daily basis. If you are getting enough, you can achieve the desired results without having to consume a different supplementary food. In addition to the increase in the amount of protein, you must also increase the amount of calcium. It will give you an advantage to have the bone strength to carry the muscles that will be formed in your body at all times. On the other hand, because the bones are not intact, you may have problems with muscle formation, and with the excess protein you have taken, you will be damaging instead of benefit.
How can I make protein intake regular?
System is very important in eveerything. If the subject is sports; the layout will gain twice the value. A diet list where you can eat and drink will give you the greatest help in this regard. By preparing a new protein-filled diet list, you can streamline your daily consumption so that you can achieve a successful protein retrieval process. You can apply to protein diets when you want to work harder and get more solid protein, and you can follow your body continuously developing, and you can set up an eating and drinking scheme according to the foods you consume.