The substance Albuterol has many brand names. Ventolin is one of them. The drug is on the markets since the 1980s in the USA after Albuterol got an FDA approvement. It is an inhaler form drug but tablet or pill forms can be found. Like Clenbuterol, Ventolin (Albuterol) is a bronchodilator. There are many brand names that uses Albuterol as the main substance on the market. Ventolin is just one of them.
The Effect
Ventolin (Albuterol) is a bronchodilator. Helps you open up and relax your airways for you to breathe more oxygen and helps you breathe easily. So the drug is commonly used for the treatment of the asthma symptoms. Ventolin (Albuterol) is not a synthetic steroid. If fact, it has no attachment to the steroid or hormone family whatsoever. But there is a strong reason for both bodybuilders, steroid users and regular users highly prefer to use Ventolin (Albuterol). The drug is an unbelievable thermogenic.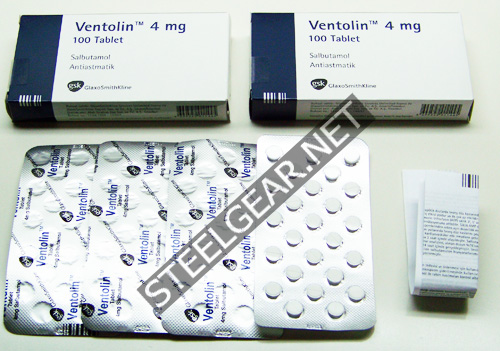 Like we said above Ventolin (Albuterol) is an unbelievable thermogenic drug and makes breathing so easy and effective. These are the main reasons behind the drug is so popular among the athletes. Perfects performance enhancing drug that is not a steroid. Thermogenic effects of this drug helps you burn fat in a short term. Ventolin (Albuterol)raises up your internal body temperature. So this is why bodybuilders prefer to use the drug when they are in their cutting phases. Low calorie diets can make work out sessions harder in the cutting phases. Ventolin (Albuterol) make you energetic. Also you will take more oxygen into your lungs so more energy you will have.
Administration
For the treatment of the asthma symptoms 2-4 mg of Ventolin (Albuterol) 3 or 4 times a day is a normal range of use. In most cases these dosages will com in inhaler form. Of course this depends on severity of your disease.
For performance enhancing purposes, 2-4 mg of Ventolin (Albuterol) 1 or 2 times a day is a normal dosage to start for both men and women. But your body will adapt to the thermogenic effects of the drug so the dosage can go up to 6 or 7 times a day. This depends on your body type and your goals as an athlete. Most athletes and bodybuilders uses Ventolin (Albuterol) for four weeks and take a break for four weeks. This cycle goes on for avoiding possible and further side effects.
Side Effects
Ventolin (Albuterol) is a powerful drug. So you can expect some side effects. The side effects of the drug can differ according to your body type, gender. Here are some side effects of the drug Ventolin (Albuterol).
Feeling aggressive or jittery. This is the result of stimulant substances in the drug. Muscle cramps, Potassium deficiency (damages muscle), insomnia, increased Heartbeat, Tremors, Panic attacks, Sweating, Headaches, Nausea and High blood pressure