From birth, people's muscles begin to form and develop. This process reaches the highest level after adolescence and people's muscle development is completed. The mentioned here is the development in the process from infancy to adulthood. Normally, if people don't do any workout, the development is up to here. However, with bodybuilding sports, development continues and it accelerates much more. So that the general outlook of people can change completely. The situation in question causes people to ask how long their muscle development lasts.

It is very difficult to give precise information about the age for muscle development. In fact, the main thing to wonder here is whether bodybuilding sports are being performed at an advanced age. It can be said that many factors such as general condition, history, existing muscle structure and habits of the person affect this issue. But in general, muscle development can be achieved in older ages. While the age limit here is 50 for some, there may be higher ages for some people.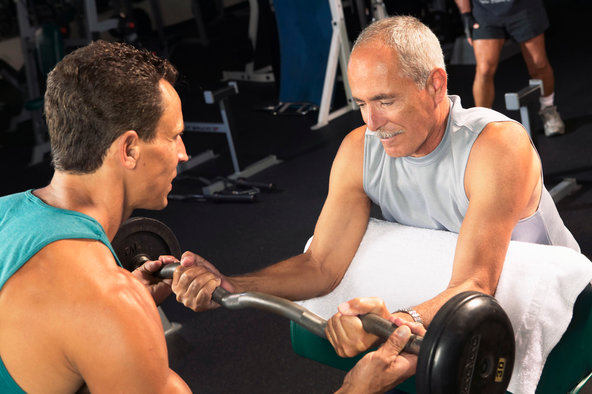 The Importance of Muscle Mass in Old Age

In the explanations made by the doctors, it is mentioned that there are different benefits of elderly people having muscle mass. Some of these can be listed as follows:

It reduces insulin resistance.
It prevents bone loss.
It prevents balance problems.
It prevents excessive weight gain.

Considering the above benefits, it can be said that people should increase their muscle mass by doing sports even in the elderliness. Therefore, the answer to the question about the age at which muscle development will last will directly affect the state of health in old age.
Is it ok to start sports in middle age?

Middle-aged people who could not start sports because of work, education and similar reasons in the past ask questions as to whether sports can be done after this age. The answer to this question is yes. Anyone who is not overly old and does not have a health problem preventing sports can start sports.

Different researches have been done on starting sports and bodybuilding in middle age. These studies show that middle age is extremely suitable for sports. Especially, the results between 18-22 years old and 35-50 years old showed how suitable middle age is. In this study, both groups were given an exercise program for 8 weeks and then the results were examined. At the end of this period, an average of 1 kg of muscle was increased in university students, while in the 35-50 age group, 1.2 kg of muscle increased.

Results similar to the above study have been seen in different studies. There are even people who start sports after this age and achieve serious body development. Considering all this, it can be said that there is no age to start sports.
Things to consider when starting sports in middle age

There are a number of points to consider in sports for muscle development. These issues are different and much more important, especially in the middle age group. The first of these is the age and life style of the people. Remember, you are no longer young and your muscles are not as flexible as before. Therefore, you should prepare your muscles for the movements that young people can easily do.

Muscles must first be warmed up and stretched. For this, it is extremely important to do some minor exercises before starting the sport. After warming up, do sports under the control of a profesional. It is very important that you act according to the directives given to you so that you do not get injured. Never forget that forcing your body suddenly can cause serious problems. Therefore, make the given movements in the given numbers and spend the rest of the sets with rest. You can increase your tempo over time.

Muscles need to be a little strained to ensure muscle growth. For this, the force threshold must be set well. If your muscles are under an unstable load, the consequences can be extremely negative. Apart from these, other points you should know and pay attention to are:

You should never stop after starting sports. Regardless of your age, keep doing sports that fit your age and keep muscle growth constant. In this way, you can have a more comfortable life in old age.
When doing the exercises, pay special attention to your joint areas and make sure that you do not overload.
Do not forget to do balance and stretching exercises before starting the sport.

When you pay attention to these issues, you will develop muscle. But remember, the development will be at different levels for everyone. Therefore, never compare yourself to someone else and just enjoy this situation.

Click here to buy anabolic steroid products that support your muscle growth.