A handful of information about the best bulking steroids cycle
Are you struggling with your lean muscle mass? Do you want to achieve a bulk physique? If yes, using steroids will be the right decision for you. There are a number of supplements that can enhance users' muscle growth and provide an attractive bulk physique to the users. Some of the popular bulking steroids are Testosterone, Dianabol, Anadrol, Deca Durabolin, Turinbol etc.
It goes without saying that using the right dosage of steroids can help users to reach their goal easily. But it is unfortunate that most of the people have lots of misconceptions about these substances. If you also belong to them, then you must visit the chart that is given below.
| | |
| --- | --- |
| Bulking Steroids | Dosage Range |
| Testosterone | 500mg-1000mg Weekly |
| Dianabol | 50mg-80mg Daily |
| Anadrol | 50mg-75mg Daily |
| Deca Durabolin | 400mg-800mg Weekly |
| Turinabol | 30mg-50mg Daily |
The above doses are not mandatory to follow. New steroid users can take much lower doses and gradually higher the dose to see how the body can tolerate the level. Before taking a heavy dose it is good for the beginners to opt for one steroid and see the tolerance power.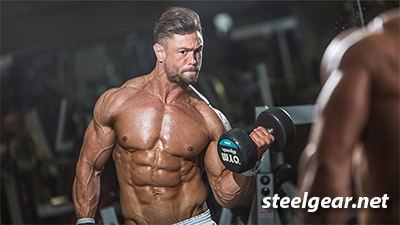 Fitness enthusiasts, bodybuilders, sportspersons who are new steroid users usually start with a testosterone one cycle. Testosterone enanthate ester is always good for the first time cycle. This steroid is easily available and it has a half-life of between four to seven days. You have to separate the dose into twice-weekly injection.
From week 1 to 12- 500 mg of testosterone enanthate is to be divided into 250 mg injections.
Week 14 to 17- 20 mg of Nolvadex per day is used. This is quite important to kick start capability of the body's production of testosterone on its own.
Dianabol
This is one of the best bulking steroids. Most of the athletes and bodybuilders prefer taking this.
Dianabol is best when it is used to kick start a cycle.
Week 1 -4- 30mg to 50mg of Dianabol per day and 400mg per week of testosterone enanthate. 0.5mg of Arimidex per day
Week 5-12- 500mg per week of testosterone enanthate, divided into two 250mg injections. 0.5mg of Arimidex per day.
Week 13-16- 40mg of Nolvadex per day.
The best bulking cycle for huge gains starts with Dianabol and also makes use of Deca Durabolin as a very significant element.
When steroids convert into estrogen you need to take Arimidex to avoid the conversion.
Week 1-4: 20mg to 40mg of Dianabol and 0.5mg of Arimidex per day.
Week 5-12: 600 mg of Deca and 100 mg of testosterone enanthate per week with 0.5 mg of Arimidex per day.
Week 13-16: 40mg of Nolvadex per day.
For post cycle therapy, Nolvadex is used to avoid low testosterone related side effects.
Tips to protect health during the best steroid bulking cycle
While you are going through the bulking steroid cycle you should be careful.
· Don't use multiple oral supplements at a time. This can damage the liver.
· Don't consume more caloric food than you can burn.
· Do exercise properly. Weight lifting is highly important.
· Use the perfect doses to enjoy the benefits safely.
· Never skip post cycle therapy. This will help you balance your natural testosterone production level.
One thing is to be remembered that not everyone is able to tolerate the same doses. Thus, you can personalize but don't go beyond the cycle length time.
You can find a lot of steroid cycle programs below: