One of the most asked questions are about "How to inject?" and what will happen if an user miss the muscle. In this article we will try to answer these questions.
All oil based and water based anabolic steroids should be taken in to the muscles. This means the shot must penetrate the skin and subcutaneous tissue to enter the muscle itself. Intramuscular injections are used when prompt absorption is desired. The common places for in tramuscular injectons are: buttock, lateral side of the thigh, and the deltoid region of the arm. Muscles in these areas, specially the gluteal muscles in the buttock are fairly thick. Because of the large number of muscle fibers and extensive fascia. Fascia is a type of connective tissue that surrounds and separates muscles. The drug has a large surface area for injection. In short, intramuscular injections should be given deep within the muscle and away from major nerves and blood vessels to avoid any type of problems and pain.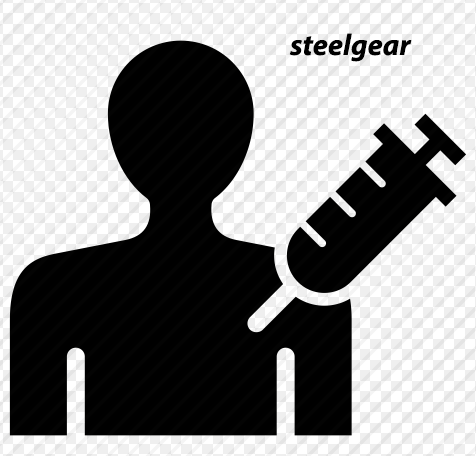 The main thing to worry about is hitting a nerve (you'd know if you did) or managing to get some of your test into your bloodstream by nicking a blood vessel. Symptoms such as coughing and a metallic taste in your mouth are possible if you manage to get enough of it into your bloodstream. If you're worried about getting the spot right, just aspirate. In this case pull back on the plunger a little once the needle is in you. And start looking for blood. If you draw up blood, remove the needle and try again in a different spot. If you pull up an "air bubble", feel free to inject.
What happens due a wrong injection?
The best place for steroid injections is in the gluteus medius muscle which is located in the upper outer quadrant of the buttock. The spot for an injection in an adult is usually to 7 1/2 centimeters below the iliac crest which equals 2 to 3 inches. The iliac crest is the top of the pelvic girdle on the back side. You can find the iliac crest by feeling the uppermost bony area above each gluteal muscle. Injection from the butt is chosen because the muscle in this area is quite thick and has few nerves. The probability of injecting the drug into a blood vessel is almost impossible. Injecting here reduces the chance of injury to the sciatic nerve which runs through the lower and middle area of the buttock. It controls the posterior of each thigh and the entire leg from the knee down. If an injection is too close to this nerve or actually hits it, it will cause an extreme pain and temporary paralysis. This is especially undesirable and warrants staying as far away from this area as possible. So being careful during an injection is very important.