Meat sources with the highest protein content are among the nutrients that should be included in the diets of athletes who are especially interested in bodybuilding sports. Proteins, which play an important role not only in gaining muscle mass but also in performing the basic functions of the body without any problems and living in a healthy way, are abundant especially in some foods. You can find all the details about meat sources with the most protein and other foods in our article.
Sources of Meat With High Protein
Meat sources with high protein content are also listed in themselves. The protein, known to be abundant in animal foods, is among the amino acids that must be taken in a certain amount during the day as it provides 15 percent of the energy production in the body. It is also possible to speed up muscle development by consuming foods rich in proteins, which have an important role in muscle development and smooth repair of muscles.

Meat sources, which must be added to their diets by sports, are rich in protein, and will be useful in achieving effective results in a shorter period of time, especially in bodybuilding sports. Red meats and white meats differ from each other in terms of the amount of protein they have. Bodybuilding athletes who want to meet their daily protein needs in the best way should consume the nutrients they need with this awareness.
1. Red Meats with the Most Protein
Red meats with the most protein stand out in terms of being the most protein-containing food among animal foods and protein sources. According to the recommendations of health and nutrition experts, it is necessary to consume red meat at least 2 times a week. On the other hand, it is stated that athletes who train heavily, especially in bodybuilding, should increase their consumption of red meat.

There are 37 grams of protein in 100 grams of lean beef. For this, beef consumption is among the most preferred protein source meat foods especially by bodybuilding athletes. The only disadvantage of red meat consumption in terms of health is that it contains cholesterol. Therefore, it is frequently reminded that it is not necessary to overdo red meat consumption by both health and nutrition experts and bodybuilding masters.

There is also a method of reducing the fat of red meat and increasing it in terms of protein. It is possible to minimize fat and cholesterol especially in red meat consumption by grilling. For this, it is recommended that athletes prefer these methods in their consumption.
2. The Most Protein White Meats
White meats with the highest protein value are also among the foods that are frequently included in the diet of athletes engaged in intense physical activity, especially in bodybuilding sports. In terms of being more economical than red meat, it is known that especially bodybuilding athletes in our country pay attention to consuming white meat to gain protein.

Tuna is one of the most abundant foods among white meats. It is known that there are 25 grams of protein in 100 grams of tuna fish, which is very rich in protein. Consumption of tuna with greenery is nutritious for athletes. The fact that it is a low-calorie meal option has made this food popular with athletes.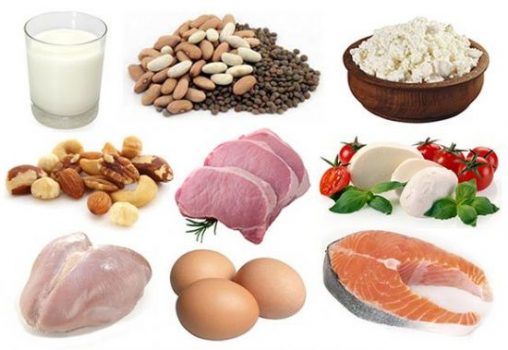 Apart from tuna fish, white meat, chicken breast and turkey meat are the most preferred ones especially for athletes who want to build muscle. There is about 30 grams of protein in chicken breast and 100 grams of turkey meat. Generally, the white meat consumed with boiled rice is satisfying. It also prepares the ground suitable for consuming a protein-rich meal.
Other Foods With High Protein
Foods that are high in protein are composed of foods that bodybuilders should add to their nutrition programs at any level. It is known that protein is used as a basic fuel in muscle building and muscle repair. Therefore, it is possible to reach the desired results in a short time by consuming foods with abundant protein.

Animal foods such as eggs, milk, cheese are rich in protein. In addition, nuts such as peanuts, almonds and hazelnuts are among the most preferred foods for athletes who want to have protein supplements. You can enrich your meals by consuming high-protein nuts as well as meat sources with the most protein.